Shirley Temple

Magazine

Feature articles provided by visitors

(Picture: The Dream/Fantasy in "The Little Princess" 1939)
---
Background music: "Knocked 'Em In the Old Kent Road",
Arrangement P.D.,
Computer adaptation ©1998 S Horne
Articles :-
Child Star the Movie by Ashley Rose Orr
The Films of Shirley Temple by Robert Windeler
The Songs of Shirley Temple's Films by Alexis Blanchart
The World's Darling by Graeme Horne
---
CHILD STAR THE MOVIE by Ashley Rose Orr

I had the best time making the movie, Child Star: The Shirley Temple Story. Everything about it was special. The Disney producer, Nancy Bennett, was the one who called and told me I got the part. She was so supportive during the entire filming. She even made sure that I had a great time in Australia. When we had days off, she took my mom and I around Australia. She even went on the roller coaster with me at Luna Park! It is an amusement park on the water!
The director was Nadia Tass. She lives in Australia. She was the perfect director to have on a first movie. She never got angry. She took me out too. I got to play with her boys and help her family decorate their Christmas tree! I had so much fun at their house. I taught her the staircase number on her stairs! How many directors would take the time to learn the dance on their day off!
When I got to Australia, I had two weeks rehearsal before we started shooting. I learned and recorded the songs, learned the dance numbers, had costume and wig fittings and did script run throughs. I had my waist length hair cut to above my shoulders. They used my hair in the wig! I had wanted to cut my hair for years but being on Broadway meant keeping the same hairstyle. I love having short hair. I keep it just below my shoulders now.
When I first met Connie Britton, we went out to lunch. We hit it off right away. She is such a nice person. It was an honor to get to work with her. I watched her many times on Spin City! She is very talented. She even gave me hints on my crying scenes. I hope to be as talented as she is when I grow up. She has a great career. But, most importantly, she is a really nice person. She impressed everyone.
Colin Friels played my father. He is from Australia. His wife is Judy Davis. She just starred in the Judy Garland movie, and did a fantastic job. Colin was really kind. I could tell he is a real family man. He would fly back and forth when he wasn't shooting. He plays a tough, banker who thinks a lot about money. In person he is much different!
Working with Hinton Battle was AWESOME. He is an amazing dancer. He taught me the dances. He had to change the Shirley Temple numbers just a bit. He added some steps to the dances. He helped me to become a better dancer. We laughed all during the rehearsals! He looked out for me and made learning fun. I hope to get to work with Hinton again. When they made practice steps for us to practice on, they were too high for me. Hinton told them about the steps. They made another set of steps for us to practice on. That is just one example of how nice everyone was there. When you make a movie, you have a whole support system around you. So many people work behind the camera that make it happen. I was so lucky. The crew was not only pros but also really special people.
Paula and Melissa Hart were the Executive Producers. Two of Melissa's sisters, Emily and Samantha, were in the movie as the older and younger Shirley. Tricia Hart worked behind the scenes. This was a family project. Melissa loves Shirley Temple and this movie was a dream for her. The Hart's are a loving and close family. Spending time with Melissa was like a dream. She is funny, down to earth and Cool! Paula Hart is really on the ball. She and Nancy kept their eye on everything. Samantha and I celebrated our Birthdays while we were there. We got several celebrations! It is a birthday I'11 never forget!
We filmed on location at many beautiful spots. My favorite was the home of Shirley when she made it. The grounds were beautiful. I loved sitting in the boat in the pool. They had someone in the water with me. She would go under the water when we were filming! There were ducks walking around the yard! I can't imagine really having a home so big and beautiful!
I didn't get to meet Shirley Temple in person. I hope I get to someday. She did send me autographed gifts. When the movie was out, she sent me a letter saying that she thought I did a good job. That letter means a lot to me. The whole time I was filming, I kept thinking that I wanted to do a good job for Shirley. I wanted her to be proud of the movie. No one can really ever be Shirley, but I wanted to do my very best in her honor. I studied her films and tried to get her facial expressions. I think it is harder to play someone else than create your own character. Playing the most famous child star ever was scary. I knew everyone would be comparing everything I did. To date it is the most exciting role I've ever played. I feel God has really blessed me. I feel lucky.
We took a lot of pictures while we were there. I look at them every once in awhile and still can't believe I got to play Shirley. They say Disney makes dreams come true and I know it happened for me! - Back
Further details see "Ashley's Website"
THE FILMS OF SHIRLEY TEMPLE by Robert Windeler

For the moviegoer of forty years ago and the television viewer of today, possibly no single performer has evoked the affection and warmth that Shirley Temple has.
At the zenith of her career, before she was six, Shirley was not only the most famous child in the world but she was every moviegoer's adopted daughter. She sang, danced, made her audiences laugh and cry. The world's great visited her during her movie-making days. When such as Eleanor Roosevelt, Thomas Mann, Noel Coward and H.G. Wells departed from the 20th Century sound stages, they wore a badge from the Shirley Temple Police Force. She was indeed the "Mighty Moppet."
This book is the complete record of Shirley Temple's remarkable career in films as well as her life since retiring from the screen. To research The material Robert Windeler spent many hours interviewing Shirley Temple, as well as many hours viewing the now legendary Shirley Temple films.
Every picture in which Shirley Temple appeared, from her early two-reelers to her last film appearances in 1949, is here documented with casts, credits, synopsis and fabulous photographs, nearly four hundred of them, many from her private collection. In short, The Films of Shirley Temple is a nostalgic feast! - Back
For details of this book see "Book Shelf"
THE SONGS OF SHIRLEY TEMPLE'S FILMS by Alexis Blanchart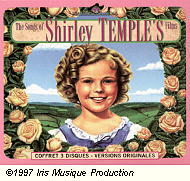 With image always smiling, often present on posters, kettledrums, tee-shirts, socks, and children's watches, Shirley Temple was the mascot of the Hollywood of the thirties.
Being born at an opportune time in 1928, with the introduction of 100% talking-singing-dancing movies, Shirley was endowed with an inimitable sense of rhythm.
At this time the biggest songwriters and composers of the "golden-age" of musical comedy (Harry Warren, Irving Caesar, Paul Francis Webster, Richard Whiting, Mack Gordon, Harry Revel, Walter Bullock, Harold Spina, Sydney Mitchell and Lew Pollack), hastened to put their genius to her service.
At the peak of her career, copies of "Polly Wolly Doodle" and "On the Good Ship Lollipop" were sold by the thousand, better than any song launched in the same period by Bing Crosby, Nelson Eddy, or Alice Faye, which says that Miss Temple was a main piece of the musical chessboard at the time. - Back
For details of this 3 CD collection see "Music Recorded"
THE WORLD'S DARLING by Graeme Horne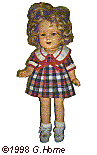 In 1934 a mere five year old child appeared in a movie called "Stand Up & Cheer". She danced and sang her way to everyone's heart, during the "Baby Take A Bow" routine from the movie "Stand Up & Cheer ". People flocked to see Shirley at local movie theatres, in a time when a weeks wage (if you had a job) was roughly $15. Enter Ideal Novelty and Toy Co. who advertises that it will have dolls in the stores for Christmas 1934. Every child absolutely had to have one. All Ideal's pre orders simply could not be filled, such was the demand even during the depression. Production was frantic as orders stockpiled and the Ideal Shirley Temple doll became the most popular doll ever manufactured.
To understand the Ideal Company position and the sequence of events during their remarkable growth phrase, is to make the search for a 1930's Shirley Temple Ideal doll, more rewarding today. At the recessions end, the Ideal Shirley doll had spawned an industry based on celebrities. Shirley Temple to this day, forever "The World's Darling", has a capacity not dimmed by time but enhanced. Every doll lover and collector, eventually just has to own an original 1930's Ideal Shirley Temple doll. It simply is the icon of dolls and an all time tribute to the world's brightest star. To follow the history and time of the Ideal Shirley Temple doll and to find out why some dolls are more special than others, you can read the complete story of "The World's Darling" plus more, in the Australian Shirley Temple Collectors News. - Back
For ASTCN subscription see "Club Contacts", regular contents include:-
• Collectors Corner - Feature Stories about Shirley collecting
• SSSSHirley In The News - FREE Trading Post for Members
• Remember When - Humour Page - Members Photos & News

To add your story of views/experiences please use Guestbook or Click Here
---